Recently I visited Mamallapuram which is also known as Mahabalipuram. It's One day Trip. This town is located in sound India. It is a town on a strip of the land between great Salt Lake and Bay of Bengal. It is around 60 KM from main city Chennai.
Mahabalipuram is famous for its temples and monuments built by the Pallava dynasty in the 7th and 8th centuries. One of the famous temples is seafront Shore Temple which comprises 3 ornate granite shrines and the monuments have been classified as a UNESCO World Heritage Site. Nearby Ganesha Ratha stone temple, a Krishna's Butter Ball is balanced on a small hill. Mahabalipuram Beach is also a peaceful place where you can enjoy the quality time. The road from Chennai to Mahabalipuram is perfect. The journey will took around 70 minutes with stunning views of the Bay of Bengal along the East Coast Road. This road is popular among travelers looking for a road trip as well. You can see good scenes and places where you can take good selfies and picture to add it on your memory line.  Let me go through more about one day trip to Mahabalipuram.
Shore Temple
Shore Temple is just near to the Mahabalipuram Beach but the path is disconnected. So you can either see the temple or go for beach at one time. Before entering into the town you need to take pass costing around 50 INR (Parking including). One more gate pass needed to enter the Temple area. You can avail that pass at main gate of Shore Temple. Digital Payment is also accepted there and also you can get some discount on digital payment. After payment you can walk through the garden type area for Temple. It's very old Temple and some parts are bit broken.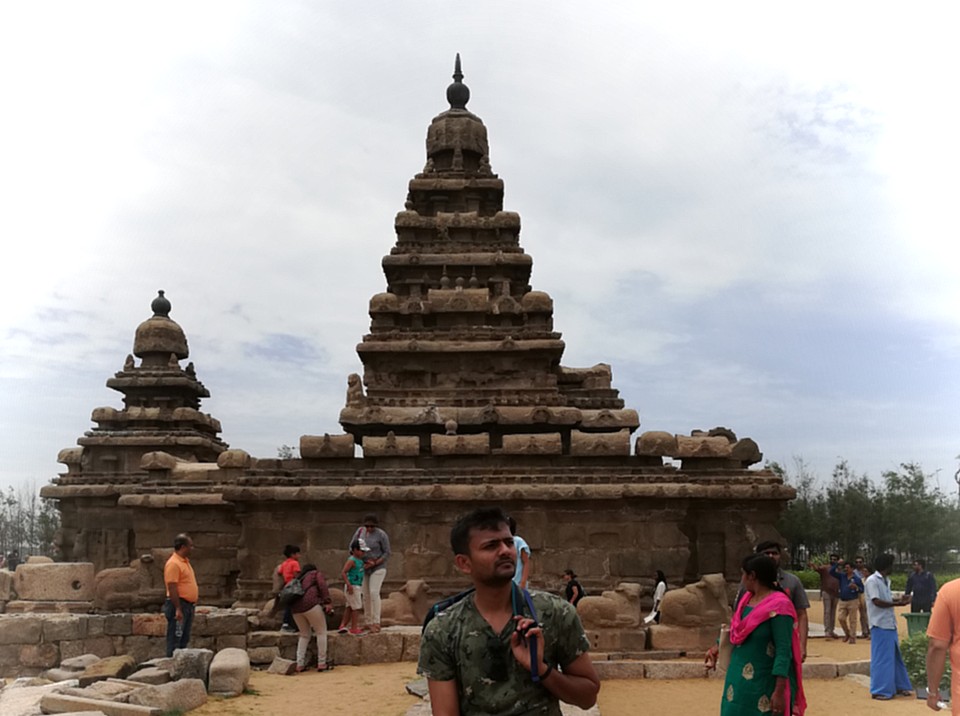 Mahabalipuram Beach
There are so many beaches in Chennai but Mahabalipuram Beach is one of the best among them. You will find big bit stones where you can sit and relax. The wind is so cool you won't feel the hot here. Apart from this beach area every where you will feel the hot and you might have to drink more and more water (Safe side from Dehydration).
Mandapams Caves
Mandapams Caves is the biggest area here in the Mahabalipuram. I spend around more than 4 hours. There are so many old caves and many statues to see and visit.  Light House, Temples, Big stones and around 10+ rock-cut carves and Mandapams are the few ones. The top view from Light house really make you feel amazing with the beautiful views of all temples and sea. The history of Mahabalipuram is very famous and the traveler guide will tell you in detail, if you book them.
If you visit Chennai then must explorer this place. It's kind of one day trip from Main Chennai City. You can Cover Marina Beach visit along with Mahabalipuram. Trip from Car or Bike will be more enjoyable with the best kind of road trip. Few places apart from those top listed place you can visit are: Crocodile Bank, Pancha Rathas, Arjunar Penance, India Seashell Museum, Krishna's Butter Ball, Tiger Cave, Mahishasuramardini Cave, Trimurti Cave, Pancha Pandava Cave, Ganesh Ratha Temple, Raya Gopura and many more.
Also Check out Top 7 Places to visit in the World